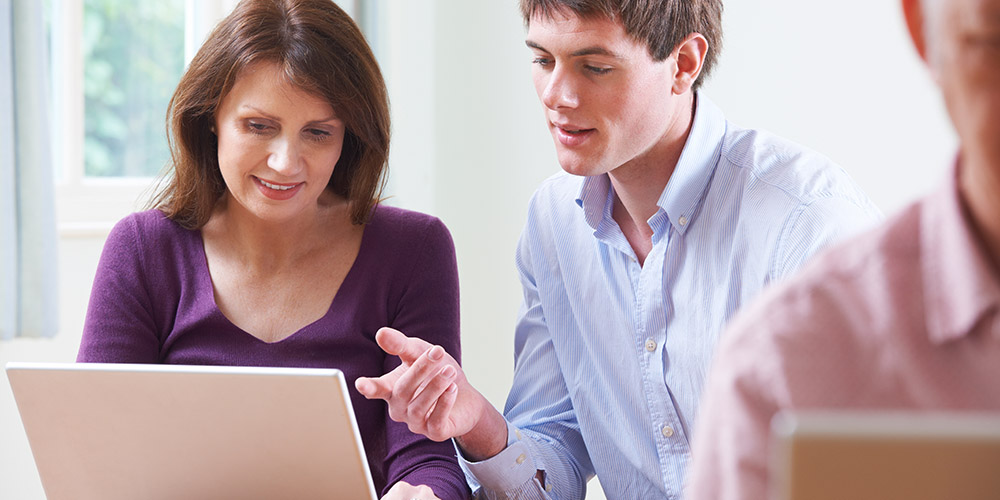 WordPress CMS User Guide Part One
In a series of blog posts we will go through the wordpress cms platform, and how to use it to manage the content on your website, and to do it the right way so you can raise your search engine rankings naturally.
WordPress is really easy to use, and it won't be long before you're adding blog posts and setting up new sections on your website.
Once you've logged in with the username and password given to you, you'll arrive at the dashboard homepage. You'll notice the menu down the left hand side of the page, which lists all the sections of the admin area where you can make changes.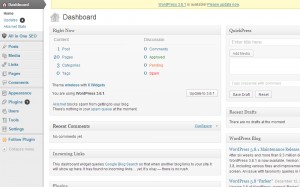 The key areas we will focus on are:
Posts

Categories
Add New
All Posts

Pages
Posts
After clicking on posts, you will be taken to the all posts page. If this is the first time you have logged into the wordpress admin, you will see a 'hello world' blog post, which is there by default when wordpress is installed. Delete this now as you don't want it appearing on your website!
The first thing you'll want to do is add a post, but before that you need to add a category to put the blog posts in. We recommend taking your time to pick an appropriate name for the category as once it's been picked it's not the best idea to change it. You will want to pick something relevant, and something a little more descriptive than 'blog', so pick a name with a few of your key words in it, so if you sell red boxes, pick the name Red Box Blog.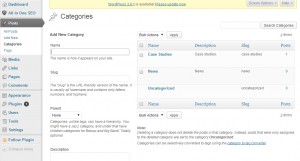 The category will be given an alias (also known as a slug) which will be the name of the address of the page. Picking a category name with a few of your keywords in it, as above, will further boost your search engine rankings as each blog post you make from now on will have that category name you picked in its web address.
Make sure you add a description as well, ideally at least a paragraph as this will show up on your website unless it's been turned off explicitly.
Once you have saved your category, you can go to the 'add post' page to add a new blog post to your website.
This is what the 'add post' page looks like, with the key parts highlighted. We will go through each of these one by one.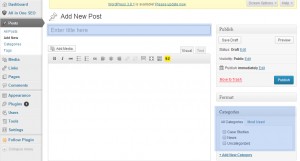 First, add your post title. Keep it on topic and try and add a keyword or two in there.
You'll see underneath there is a text editor, where you have a few options for formatting your content. Add a few paragraphs in, then look to the right.
You'll see in the publish box that the post you have just written is not yet published. You will need to click the blue publish button to put your post live, but first, make sure to tick the checkbox of the category that you just made, so that this new blog post gets posted into the right category.
You will also see an add media button, and a tags box, where you can add relevant keyword tags to your post, but we will come back to these later.
Hit publish and your post will go live, and you will be taken to the 'all posts' page.
Feel free to do this as many times as you like to practice, you can always edit posts or delete them in the future on the 'all posts' page.
On this page you will see all your posts are listed. When you hover over a post title some options appear where you can click to edit the post, which is exactly the same as adding a post, or you can move the page to the trash, which means it won't appear on the site but you can still activate it again in the future if you wish.
Pages
Adding and editing pages is practically the same as adding posts, with one key difference. Pages don't have categories. You have a selection of parent pages, which are the main pages which will appear in your website menu, and each page can have a number of sub pages which will appear when users hover over the parent page in the menu.
To start with we will add a page, we will then add a sub page to it.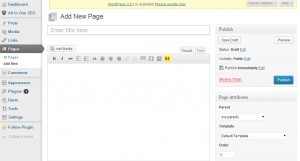 The key difference on this page in comparison to the add post page, is that the category check boxes have been replaced with the page attributes box.
As we are creating a parent page, leave that drop down saying 'no parent' and leave the template option to 'default template'. Hit publish, then head back to the 'all pages' page. You will see your new page in the list.
To add a new page which is a child of that page, go through the above process again, but instead of leaving the parent option as 'no parent', you select the page you just created from that drop down menu. After you publish, head to your home page of your website and hover over the parent page you made. The new child page will appear underneath it.
In the next blog post we will discuss adding media to your pages and posts, as well as editing widgets.
Posted in the Web Design blog category on February 4, 2014.
Tags: add blog category, add blog post, add page, how to use wordpress, website designer reading, wordpress cms help, wordpress website design