Pretty Stitches Web Design
Pretty Stitches make beautiful and unique Keepsake Memory Bears from your old baby grows. These stunning bears give you a unique keepsake to treasure.
Pretty Stitches offer a service in which they use these old items and transform them into a beautiful teddy bear which can be kept and treasured.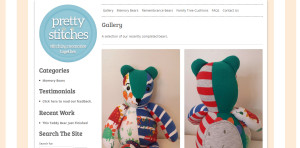 The business started out as a hobby, but became so popular that the client decided to get a website made so that she could market her services outside of facebook.
We designed a pretty and spacious website that was easy to use, that works on all devices. Images of the beautiful creations take centre stage and each time a bear is finished, it only takes the client a few minutes to add the bear to her portfolio online.
Posted in the Portfolio blog category on May 20, 2014.