Choose Mosaic Web Design
[heading subtitle="Mark, Choose Mosaic"]Working with you has been both a pleasure and extremely productive for us. The site you have produced is beyond my expectations, and way beyond the expectations of most of our members and charity Board. You have been extremely responsive to our ideas and found ways to deliver what we needed. [/heading]
Mosaic is a new kind of Synagogue Community. Mosaic is based in the borough of Harrow and serves people in the boroughs of Brent, Harrow, Hertsmere, Hillingdon and beyond.
Another fully responsive website, designed and built by our team with built in SEO, integration with google webmaster tools and with a fully editable CMS.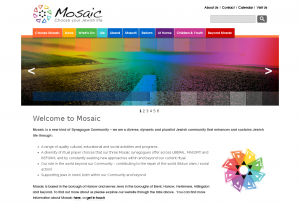 Working with a local graphic designer, we built a website for Mosaic that met the following needs:
responsive design (works on desktop, tablet and mobile)
integration with google calendar
past and future events listed on site
bespoke templates based on section of the site
events and news to appear in custom image sliders in different sections
The admin can log into the WordPress admin and create events, add news items and update all of their content. All aspects of the site are fully editable by the client.
As the site covers three different areas and groups, different sections are colour coded and have their own headings and sliders. Pre writing the rules for these sections ensures that as the client keeps the site up to date, the existing rules and templates apply, cutting down costs for them in the long run and giving them more control than you would normally have over the site.
Users of the site can enquire to different people depending on their need, and users can also sign up for updates to their calendar of events.
Posted in the Portfolio blog category on January 26, 2015.