Pro Bridge Web Design
ProBridge is the exciting new national bridge agency whose goal is to connect bridge enthusiasts with the professionals. People looking for a bridge teacher or a professional partner can use ProBridge to find professionals in their area that offer the right services.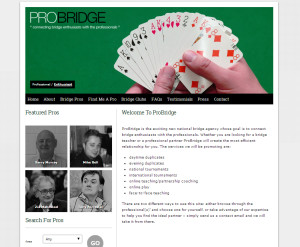 There are two different ways to use the site: either browse through the professional(s)' and choose one for yourself, or take advantage of their expertise to help you find the ideal partner.
The site contains a powerful search function, whereby users of the site can search for the type of service they are looking for, the area in which they would like to meet their professional, and what day the professional is available. On the other side of the site, the professionals on the site can sign up, log in and update their details as well as connecting with the enthusiasts.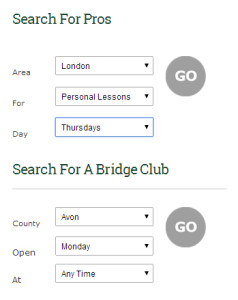 The site also contains a list of over 750 bridge clubs, which are also searchable by opening time and location.
People using the site get in touch with the bridge players by filling out a private contact form, which then delivers the request to the professionals inbox.
Professionals listed on the site can update their availability over the coming months, which then reflects on their public profile, ensuring that when enthusiasts want to play with a pro, they are not wasting their time if the pro is busy.
Shortly after launch the site shot to #1 on Google for the search terms 'professional bridge agency' and has remained their since.